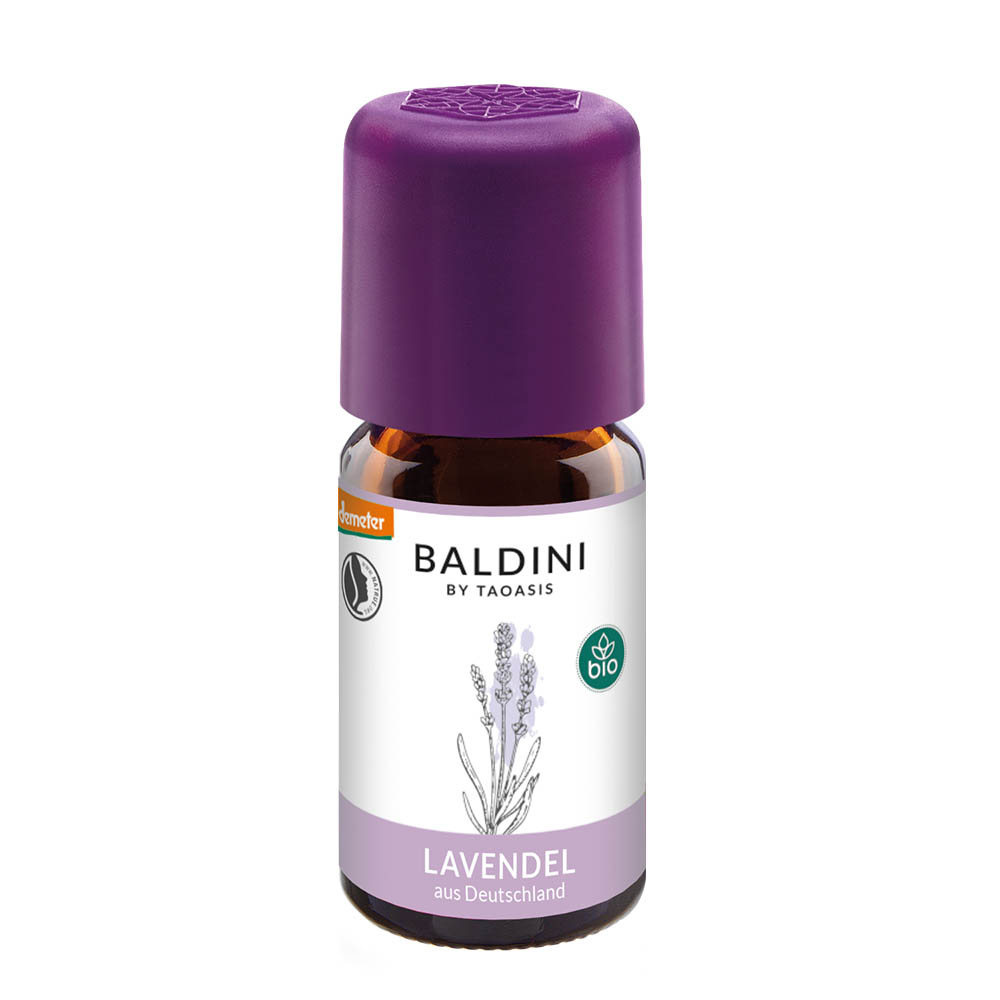 Baldini lavender germany organic 10% in demeter jojoba
€6.40
Content:
5
(€1,280.00 / 1000 ml)
Den Klassiker der Aromatherapie gibt es jetzt auch aus der Petite Provence in Ostwestfalen! 5 ml De… show more
Den Klassiker der Aromatherapie gibt es jetzt auch aus der Petite Provence in Ostwestfalen! 5 ml Detmolder Bio-Lavendel aus Detmold, 10 % in Demeter-Jojoba. show less
Product Information
Product information
The classic scent of the aromatherapy is now available from Petite Provence in East Westphalia! 5 ml Detmolder organic lavender from Detmold, 10% in Demeter-Jojoba.
Application:
Zur besonderen Aromapflege der Haut nur verdünnt anwenden, z.B. 8-10 Tr. auf 50 ml Baldini Mandelöl zur wohltuenden Aromamassage.
Please note:
Ätherische Öle nicht unverdünnt anwenden. Darf nicht in Die Hände von Kindern gelangen. Nicht in Augen und Schleimhäute bringen.
Botanical name:
Lavendula officinalis
Characteristics:
ausgleichend, beruhigend und stärkend
Ingredients (INCI):
Simmondsia Chinenesis Seed Oil, Lavandula Angustifolia Flower Oil, Linalool, Geraniol, Limonene.
Type of extraction:
Wasserdampfdestillation
Storage Instructions:
Bitte kühl und trocken lagern, an einem lichtgeschützten Ort.
Bio/demeter notice:
Da wir Naturprodukte verkaufen, ist die Verfügbarkeit der Rohstoffe natürlichen Schwankungen unterlegen. Wenn durch nicht beeinflussbare Vorkommnisse nur eine begrenzte Menge Demeter-Öl produziert werden kann und diese Menge vor der nächsten Ernte ausverkauft ist, liefern wir in diesen seltenen Fällen ersatzweise das Produkt in Bio-Qualität.
INCI note:
Ätherische Öle setzen sich aus einer Vielzahl von Einzelkomponenten zusammen. Stoffe wie Limonene und Linalool sind ganz natürlicher Bestandteil des ätherischen Öls, sie werden nicht zugesetzt. Sie gehören aber zu den 26 deklarationspflichtigen allergenen Duftstoffen und müssen daher separat ausgewiesen werden, weil einige Menschen allergisch auf einzelne Inhaltsstoffe reagieren. Als Parfum wird in der INCI eine Komposition aus verschiedenen ätherischen Ölen bezeichnet, wenn wir die genaue Zusammensetzung als Duftgeheimnis bewahren wollen. Alle unsere Produkte sind frei von synthetischen Stoffen!
Gefahren- und Sicherheitshinweise:
taoasis.detail.tabs.warnings.headline
From our Hearts
Made with love