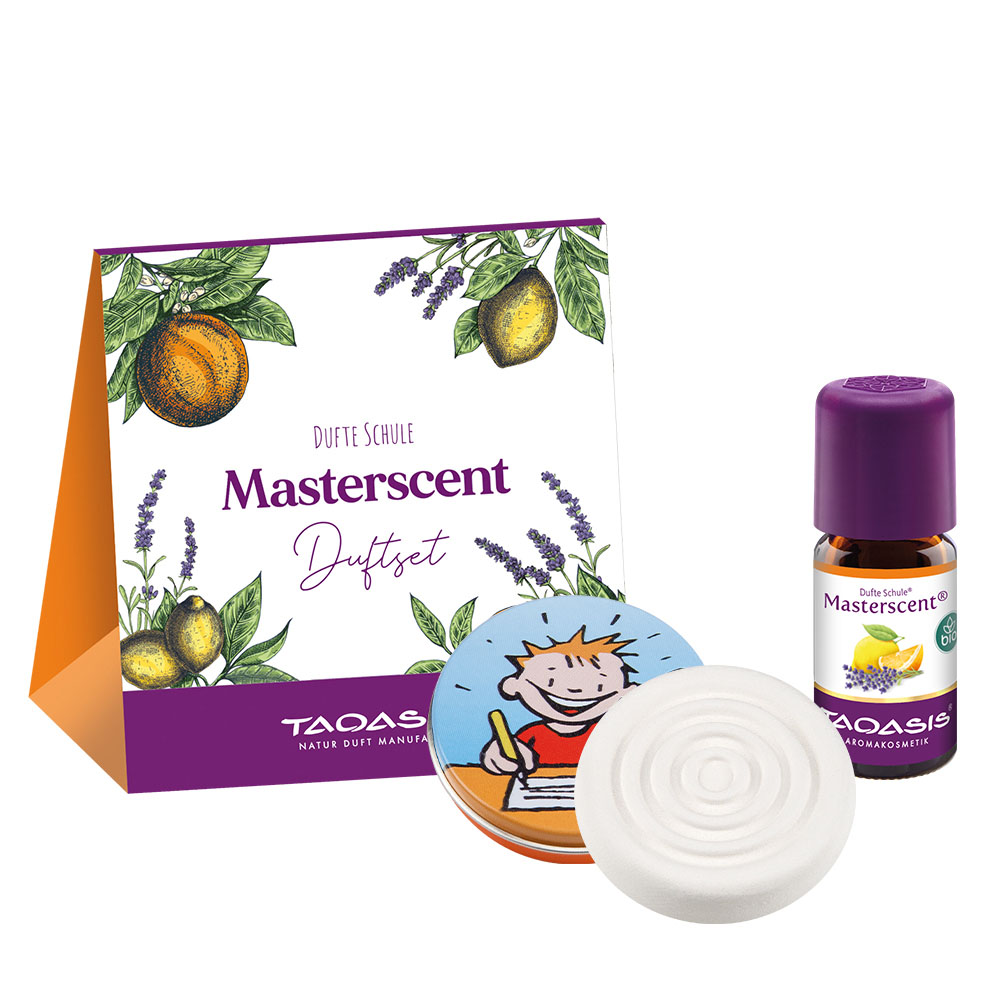 Cool School Masterscent gift set
The ideal companion for school, university or at work. If you lack attention and motivation, lemon… show more
The ideal companion for school, university or at work. If you lack attention and motivation, lemon and lavender provide the right learning atmosphere. The invigorating fragrance made from 100% pure essential oils gives you strength and promotes concentration. The new set includes the 5ml Colol School Masterscent fragrance and a fragrance stone in a metal can. You can scent the fragrance stone yourself at any time and use it where you need it. Thanks to the practical small metal tin, it can be stored in any pocket and taken with you. show less
Product Information
Product information
The ideal companion for school, university or at work. If you lack attention and motivation, lemon and lavender provide the right learning atmosphere. The invigorating fragrance made from 100% pure essential oils gives you strength and promotes concentration.

The new set includes the 5ml Colol School Masterscent fragrance and a fragrance stone in a metal can. You can scent the fragrance stone yourself at any time and use it where you need it. Thanks to the practical small metal tin, it can be stored in any pocket and taken with you.
Application tip:
Wenige Tropfen Öl auf den Duftstein geben und der Duft verströmt von allein.
Storage Instructions:
Bitte kühl und trocken lagern, an einem lichtgeschützten Ort.
Gefahren- und Sicherheitshinweise:

Flüssigkeit und Dampf entzündbar. Verursacht Hautreizungen. Verursacht schwere Augenreizung. Kann allergische Hautreaktionen verursachen. Kann bei Verschlucken und Eindringen in die Atemwege tödlich sein. Sehr giftig für Wasserorganismen mit langfristiger Wirkung. Ist ärztlicher Rat erforderlich, Verpackung oder Kennzeichnungsetikett bereithalten. Darf nicht in die Hände von Kindern gelangen. Von Hitze, heißen Oberflächen, Funken, offenen Flammen und anderen Zündquellen fernhalten. Nicht rauchen. Freisetzung in die Umwelt vermeiden. Schutzhandschuhe tragen. BEI VERSCHLUCKEN: Sofort GIFTINFORMATIONSZENTRUM/Arzt/Hersteller anrufen. KEIN Erbrechen herbeiführen. BEI BERÜHRUNG MIT DER HAUT: Mit viel Wasser und Seife waschen. BEI KONTAKT MIT DEN AUGEN: Einige Minuten lang behutsam mit Wasser spülen. Eventuell vorhandene Kontaktlinsen nach Möglichkeit entfernen. Weiter spülen. Unter Verschluss aufbewahren. Inhalt/Behälter zugelassenem Entsorger oder kommunaler Sammelstelle zuführen. Enthält Limonene, Linalylacetat, gamma-Terpinene, Linalool, beta-Pinen, Myrcen, alpha-Pinen, Citral, Eucalyptol und beta-Caryophyllen.
taoasis.detail.tabs.warnings.headline

Gefahr / Danger
---
Dieses Geschenkset lässt sich super Verschenken. Vor allem der Stein ist eine tolle Idee, da er das Öl gut aufnimmt und verteilt, ohne dass man Erfahrungen mit Düften haben muss. Über den Duft brauche ich nichts sagen. Riecht gut! :)
From our Hearts
Made with love